All stations in Japan are numbered, like HK01 for Umeda. Look for those numbers beside the station names on the signboards on the tracks or maps on the train.
From Takarazuka to Kotoen is 10 minutes, and costs 190 yen (the fare from Takarazuka-minami-guchi is the same). For how to ride trains cashless, go to How to ride trains/busses cashless in Kansai.
For general information on how to get on trains, see: LINK
For details of Takarazuka station, see: LINK
---
NOTE: In Takarazuka, there are two stations: Takarazuka (HK 56) and Takarazuka-minamiguchi (HK-28). Please make sure which station is nearest to your hotel. This guide shows how to get on trains at Takarazuka (HK 56).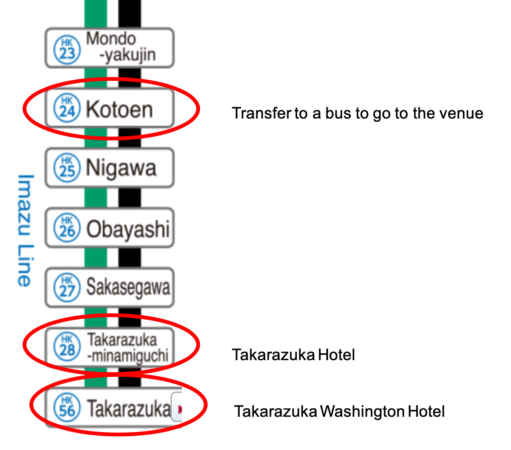 ① Takarazuka Station (HK 56)
The main gate of the Takarazuka station is on the upper floor of the station building. Purchase a ticket on a ticket machine (see this page for how to use a ticket machine) and insert it into a slot at a gate, or touch an ICOCA or Mobile Suica to the sensor at the gate when you go through it.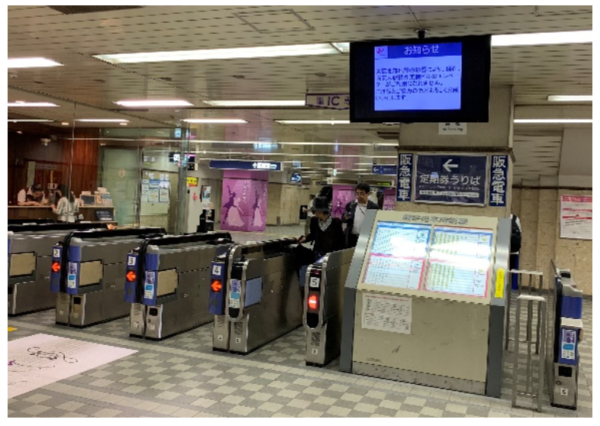 ② Trains to go to Kotoen
Local trains to go to Kotoen depart from Track 3 (Look at the board with the number 3 in the blue circle). Go up the stairs (or an escalator) on your right to get to the track. All trains bound for Nishinomiya-kitaguchi stop at Kotoen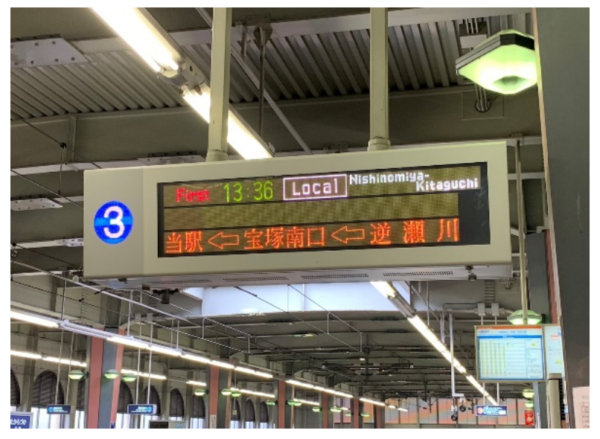 ③ Kotoen Station
Kotoen station (HK 24) is the 5th station from Takarazuka Station and 4th from the Takarazuka Minamiguchi station. Watch for a board below. Getting off your train at Kotoen, go up to the main ticket gate.